We are James Bond's Q
Departing Director General John-Mikal Størdal believes FFI should be shrouded in a certain aura of mystery.
"We should be open and communicate everything we are at liberty to disclose. At the same time, it is clear that there are things happening on the inside that relatively few will know about", says Størdal.
"I can tell you what I said in an interview with my local newspaper: 'If the Norwegian Armed Forces is James Bond, then we must be Q'. You know, the scientist who in each movie provides Bond with newly developed equipment and technological gadgets that appear to come in handy at crucial moments".
He will soon be leaving such moments to a successor. If everything goes to plan, the Director General from Hardanger will soon be departing his FFI. This departure will occur in the early summer of 2021. Following nine years in the Director's chair at Kjeller, Størdal is moving to Paris. There, he will become the Director General of another three-letter organisation: CSO. The acronym stands for Collaboration Support Office. CSO is part of the NATO Science and Technology Organization. Duties include coordinating and strengthening research and development in member states.
"NATO must become even better at inviting research and development communities to take part in innovative collaboration, across departments and national borders. This task is just as important there as it is here", he says.
John-Mikal Størdal grew up on the north side of the Hardanger Fjord, in the village of Herand in Jondal. Artist Herborg Kråkevik undoubtedly put the town on the map. There is also a connection between the two of them: Herborg's father was John-Mikal's teacher in lower secondary school. His childhood home in Herand is now a holiday home and is frequently used by the entire family of five.
Størdal has a master's degree in Aeronautics and Astronautics from the Massachusetts Institute of Technology (MIT) in United States and holds a Master of Science in Engineering Cybernetics from the Norwegian Institute of Technology (NTH). Størdal served as Chief of Staff at FFI for three years before he took over the helm after Paul Narum, who stepped down as Director General in 2012.
At age 75, is FFI in good condition?
"Our coat of arms has been redesigned. This is symbolic: During our anniversary year, we will be presenting a new long-term plan, a new vision and a new structure. All this gives us a new lease on life. It bodes well for our future".
What has made you most proud during your leadership of the institute?
"We can look back at many achievements, and my colleagues here have now ranked seven of these. In my opinion, it would be difficult to point to specific moments. I take pleasure in our people succeeding and seeing that the results of things we have done here are important and useful. Some of the things we are especially proud of are things no one on the outside will know about.
This is challenging for the researchers in question. Therefore, it is all the more important that we appreciate them within the organisation. Recently, a colleague here delivered a statement to the Prime Minister. We received feedback that the person in question had done a phenomenal job and highlighted a complex topic in an exceptional manner. This was a ten-minute briefing.
I also look back at many other proud moments. Of course, it is a big moment when the United States purchases missiles from Norway, that FFI has been part of developing. Similarly, what happened when we presented our longterm plan in the spring of 2017 was pleasant. We had announced a presentation at Oslo Military Society's premises.
We had not thought that many people would attend, but we had a full house. Both the Minister of Defence and Chief of Defence were in attendance. In addition, the Minister of Research and Education and several of the heads of the major defence works and technology companies were present.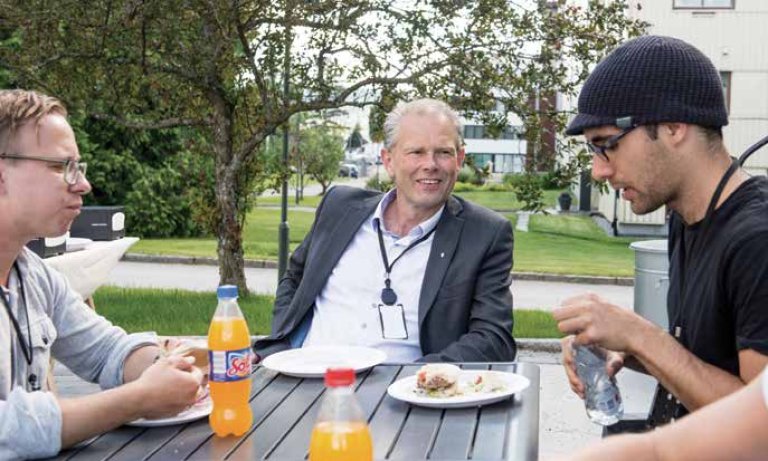 Another thing that makes me proud is to make the rounds and look at what our summer interns are accomplishing in the months they spend here. We have now received a record number of applications. This is extremely pleasing. A winning formula for us has always been to recruit good people. As such, it is a positive tradition at the institute to assign challenging tasks to young researchers. You have to learn on the job. I have noted that those who developed the Apollo Programme and the Moon missions had an average age of approximately 30 years. Now, the average age at NASA is 60 years, while Space X employees have an average age of 30 years. It is apparent to all who is taking the lead: It is the young people at Space X".
You arrived at FFI as a conscript in 1989. What was your initial impression?
"That I would not be here for long! How wrong I was. I arrived fresh out of NTH, where I had written my thesis on Kongsberg's dynamic positioning of ships in the North Sea, i.e., the 'locking' of vessels in fixed position relative to the seabed. To begin with, I though the conditions were a bit shabby at Kjeller.
I wanted to return to Kongsberg. The pace was so much slower here than I experienced it in commercial industries. But the tasks were appealing. I remember my first boss here, Emil Brodersen, told me: 'Here at the institute, we throw you in at the deep end. Then we come back in a year and see if you are floating'.
I began working on missile development, which later became Naval Strike Missile (NSM). I saw how it was possible to utilise information from digital maps. At that moment, I felt that I was being tested to the limits of what I had learned. Though it was not down to me; When Teknisk Ukeblad (Technical Weekly Magazine) in 2015 ranked the biggest engineering achievements post-WWII, Kongsberg's dynamic positioning was ranked number one. FFI's missile development came in second. Imagine that I was able to be involved in both.
The thing about being thrown in at the deep end came true, literally: I was later given the opportunity to go on a mission and examine new submarine technology. In collaboration with the industry in Kongsberg, we developed methods and explored Ula-class submarines. For three-four years, we were involved in research and development of methods for tracking. One problem with submarines is that they are vulnerable when they are close to their target, especially with the periscope raised.
Based on passive information and advanced mathematics, we were able to demonstrate a new way of doing things. This resulted in torpedoes being able to strike targets at greater distances than anyone had thought possible, with the submarine remaining submerged. Simply put, we used the submarine in a novel way. During an exercise in which we participated, commanders of foreign vessels were unable to quite comprehend how we accomplished this".
In the beginning, I felt like I was stepping into shoes that I did not quite fill. I felt like I was being thrown in at the deep end.
You became the top executive at the institute in 2012. How did that feel?
"In the beginning, I felt like I was stepping into shoes that I did not quite fill. Once again, I felt like I was being thrown in at the deep end. The job required a lot of learning in the beginning. As the head of FFI, you have to be both skilled and extremely motivated.
This is why it is a fixed-term post. Your term should not be too short, but it is just as detrimental to hold such a post for too long. The modernisation efforts we began a few years ago were based on the fact that we were too poorly equipped in some areas. The potential of FFI's role was and continues to be enormous. However, the manner in which it was structured, was not conducive for me or the organisation to be able to maximise the potential of our role".
What have been your proudest moments during your leadership?
"A combination of two things: One is the overarching social mission; to safeguard Norway's freedom and independence. The other is to be able to offer meaningful tasks to colleagues at the institute. I often face the accusation that 'you only think about our researchers'. Not true. Here, we are a big machine where everyone plays their part. Staff and support functions are essential to our work. Our deliverables are big, so, naturally, I do not have an overview of everything. For a long time, I attempted to at least read the summaries of all reports. I had to give up on this.
Not being here anymore will be strange. On the other hand, I think an eightyear directorship is long for FFI and it is long for me. Change will be good for both parties".
Do you see areas at FFI where there is room for improvement?
"We need to improve at communicating our results. It is part of the nature of researchers to account for what he or she is doing. However, we often fail to account for why. What utility does our research and development work have for its recipients? I liken it to smartphones: The utility for us lies in what they do, not how they are built. We defence people talk too much about the inner workings and too little about the utility of our research projects.
We are unable to adequately highlight our specialist expertise or our unsurpassed results. In the field of space technology, we launched our own minisatellite in 2001. And the early decision to begin developing missiles, which came to fruition with Penguin, was especially future-oriented.
It is an important point that we, throughout our history, have been good at making changes before anyone sees the necessity thereof. Here, there is a direct correlation with assigning responsibility to the right people and focusing on recruitment. We must be at the cutting edge. I view it as a considerable freedom for us to be able to determine our own course. If we lose our lead, others will determine our course for us. Increased research and development on autonomy and use of artificial intelligence are examples of important initiatives".
The Norwegian Armed Forces will always be FFI's biggest customer. What is this collaboration like?
"Generally, very good, and incredibly important for our results and deliverables. It is one of our unique strengths that FFI staff members can work closely with the Norwegian Armed Forces and other clients in the real world, with an emphasis on use and utility. In this context, we must be aware of the fact that there is considerable respect for FFI employees in the Norwegian Armed Forces.
This is nice, but it can, at times, be a barrier to communication. An example of this is when we had delivered considerable research for the development of the Nansen-class frigates. The first commander had been handpicked. We got in contact and wondered if he could come and deliver an introductory statement for us. What were his views on these ships that we had done so much work on? He was scheduled to arrive at 09:00. He arrived at 08:00. I was bewildered. This is a genuine tough guy, but now he was nervous. What was the problem? Indeed, here he was tasked with telling the leading researchers in the country about weapon technology. There was no way this could end well! Naturally, it went just fine. The FFI researchers were equally starstruck to meet the commander as he was to meet them. I have experienced similar reactions on several occasions: All it takes is a call from us and the recipient is reporting for duty.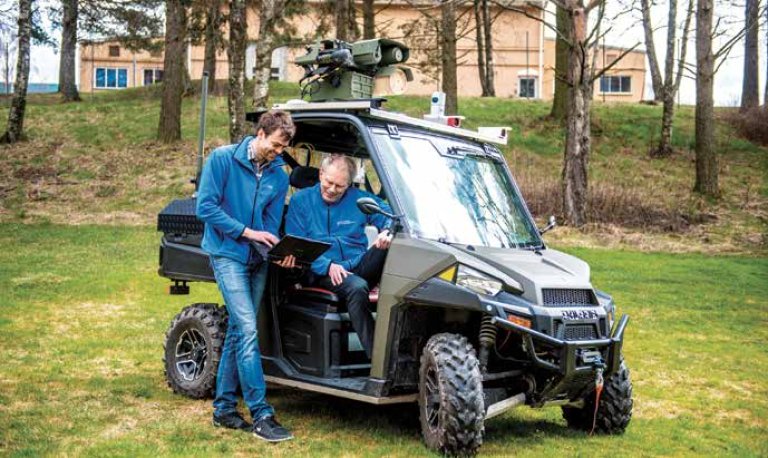 Those who know FFI well, know that researchers and management are relaxed. But such misunderstandings are confirmed by reputation surveys we have conducted. The answer is that we need to achieve more interaction with the outside world".
What will you miss the most when you leave?
"All the inspiring colleagues, of course. First and foremost at FFI, but also in the rest of the sector. Then, all the meaningful tasks. Truth be told, I find FFI to be a challenging organisation. Difficult to become truly fond of, but my word, how difficult to leave".
Why?
"I don't know. Perhaps it has to do with the very analytical and cold approach that FFI takes. I know of people who have quit out of frustration and anger. A year later, they have wanted to return. Most former FFI employees I meet, however, talk about their time here very fondly. At one point in time, I was heading full speed for the exit, myself. I was furious; at my boss, at inadequate cooperation across the organisation, at the system and the whole thing. Then, I was told that it would be unwise to resign. Instead, I was able to cool off during a one-year stay in the United States. That is when you understand that your superiors can be understanding".
I will miss all the inspiring colleagues. First and foremost at
FFI, but also in the rest of the sector.
What would you say to the next Director General?
"One piece of advice is as follows: A researcher must be given enough space. I see that requirements for deliverables have become stricter. It worries me if we are not given enough time before we are asked to deliver. In my first year at FFI, I was assigned a task that stretched over the course of a year. That gave me considerable freedom. I was given the chance to thoroughly tackle the assignment. With short deadlines, you will not have the peace that is required. Once bitten, twice shy, I would also add this advice: Seek to understand, before you ask to be understood".
In terms of military technology, the world is more complex than ever before. In what fields can FFI assert itself?
"If we are to be a partner to those with whom we are interested in collaborating, we must continue to be a world leader in carefully selected areas. There, we must have in-depth knowledge.
We are heading full speed in the direction of a technologically bifurcated world: China versus the West. Not only the Norwegian Armed Forces, but also the industry may face the following choice: 'Either you are with us or against us', as was the case in the discussions regarding the 5G expansion. This adjustment is challenging. The turmoil surrounding Huawei is only the beginning. This is potentially a big issue, where we have to both give advice and understand. It will hit us long before we see it coming. Secretary General of NATO, Jens Stoltenberg has gone very far in making his views heard on this matter. It will be exciting to see what Europe will do".
Will FFI exist 50 years from now?
"Absolutely. There will be an even greater demand for knowledge and fact-based support than there is now, especially in the area of technology. A future institute will continue to be based on military technology. However, I think we will offer far more research directed at the civil sector, in areas where FFI has especially good prerequisites for involvement. Long-term planning, with which we are now assisting the judicial sector, is an example of a field that may grow".
Størdal has also been engaged in longterm planning in his private life. He was an active football coach for his children, one girl and two boys, who are now adults, in Snarøya Sports Club. "I was involved from little league to the junior level. I miss those times. When I walk by the pitch today, I meet some of those I coached, who are now between 25 and 30 years of age. They come over and greet me and say they remember how we used to do things. Several of them still play football. That is certainly a good reward for the efforts".
As low-key a figure as you are at FFI, it is perhaps a bit difficult to picture Størdal shouting from the sidelines?
"The whistle came in handy. Perhaps I should have had a whistle here, too?"